Ms. Fulwiler,
A few years ago, I wrote a pair of blog posts about you. I won't bother to ask if you've heard of them, because you clearly have. Just as I'm sure that you'll eventually hear about this one.
I know this because the Ask an Atheist analytics site tells me that the second of my posts criticizing you — the one with the more provocative title — has gotten approximately 659 hits from your website.
No kidding. 659 hits.  On average, our site gets at least two clicks a day from your "Conversion Diary" blog.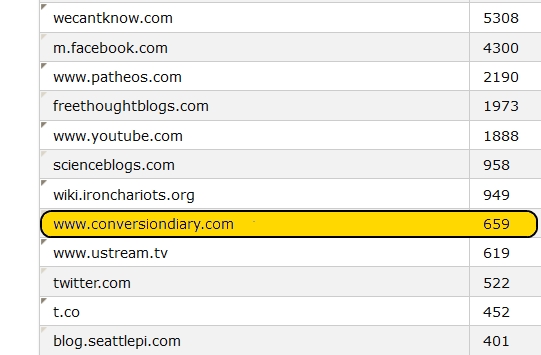 Normally, I'd just chalk this up as free promotion for the site, and for the show. I've also written articles critical of Billy Graham, Pat Robertson and Jim Wallis, but I've never really expected to have one of them notice my little rants, much less link to me. Constantly. Nearly three years later.
Ms. Fulwiler, you've linked to my article quite a bit over the past few years. Your linking has yielded our site so much new web traffic, that my post,  "Guess What? Jennifer Fulwiler is Still an Idiot"  is now on the first page of Google results for your name.
I am not joking.  Look it up. Your hilarious self-martyrdom has ironically made a page insulting you into something far more prominent than most of the articles that you've ever written. And you only have yourself to blame for it.
My favorite of your links to us was this one. I must say, wow. It's amusing to watch you pat yourself on the back for being so cool and collected in the face of all those mean atheists calling you out for stereotyping them. I've never seen someone so transparently thrilled to be the center of attention.
You know what, that's perfectly fine. I'd feel the same way. But please, don't pretend that you're silently shouldering some terrible burden with dignified poise.
Despite all the free promotion you've given my posts about you, it's apparent that you and your readers have never actually read them.  Your readers' occasional comments illustrate how badly you — and your readers — miss the point of my criticisms of you.
Here is a sampling of the sort of comments your readers have written on my posts:
If you think you have to be an idiot to be catholic (or even religious)… Surely you read about these people, Rene Descartes, Galileo Galilei, Fibonacci, etc… You say there are lay catholics? Then, How about these clergy catholics? Nicolaus Copernicus, Gregor Mendel, Georges Lemaître, Albertus Magnus, Roger Bacon, etc… If you really think you're so smart and you can't stomach the idea of a life after death, then check out "Pascal's Wager"… only an idiot will stay an atheist.
Or…
Funny that "idiots" are only the religious people. Everyone against atheism is an idiot and everyone who is atheist is smart. Talking about being rational….
My point wasn't that being Catholic made somebody stupid, or that being an atheist made you smart. I've spent a lot of time amongst a community of non-believers at organizational meetings, Ask an Atheist post-shows, and conventions. Our show has gotten literally thousands of emails, comments and phone calls during the nearly four years we've been on the air. I can speak with some authority on this.
Atheists are no more immune to being stupid than anyone else.
Among our number are some of the most brilliant people of all time,  but also a few of the dumbest people I've ever met. But it isn't the company we keep that makes me secure in my non-belief, it's the lack of evidence for the contrary position.
When your reader lists off brilliant religious believers — all of whom lived hundreds of years ago — it doesn't make your position stronger. Just as, my atheism isn't built on a foundation of knowing that Albert Einstein, Stephen Hawking and Bill Nye happen to agree with me.
So do the Raelian UFO cultists, but that doesn't matter.
That's just an appeal to authority figures — good or bad — and not a solid argument.  Your readers have it all backwards.
It isn't the stature of the people you agree with that make you right or wrong. What makes you right or wrong is the value of what you agree with them about. Their work isn't great because they did it, but because of its individual merit.
Getting to the point, I called you an idiot.
I didn't insult you because you're religious. You're not an idiot because you're Catholic, nor are you an idiot because you stopped being an atheist.
I called you an idiot because you're pretending to be an expert about things you clearly don't know anything about.
In articles like this or this, for the National Catholic Register, it's clear that you're trying to position yourself as an expert on atheists. You're carving out a niche as a former non-believer, a go-to authority on understanding, talking to, and converting people like me.
But as I said in both of my articles on you, you're absolutely wretched at it. Every word you type on the subject only makes it more obvious that you have no idea what you're talking about.
Even a brief conversation with a random non-believer would expose your arguments as laughably inept. Rather than offer your readers any new understanding about atheists, you're simply parroting the same stereotypes that the Catholic Church has spread about us for centuries.
You're not teaching your readers anything, just reaffirming their prejudices.
Sadly, like your fan referencing Galileo, Copernicus and Descartes, you're relying on the audience being dazzled by appeals to your self-applied authority.  It's an authority built on the credulity, willful ignorance and incuriosity of your readers.
I don't know what's more depressing — you completely missing the point of why I'm criticizing you, or your readers' unwillingness to actually read the things they comment on.
Therefore, you remain an idiot, Ms. Fulwiler. Not because you're a Catholic, though. As I mentioned, there are dumb atheists as well. I suspect you used to be one of them.
Thanks for the free web traffic!
Mike Gillis