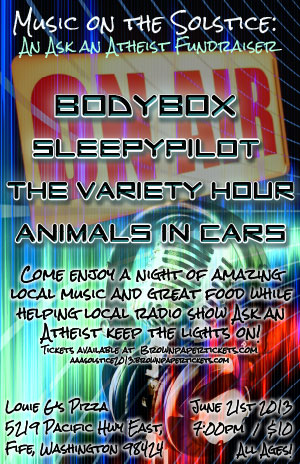 We're into reason.
So what's more reasonable than enjoying a night of wildly energetic, soulful, creative, and genre-crossing local music, while at the same time supporting the radio show? This show features talented musicians from all over the Northwest, helping our little project continue into the rest of 2013 and beyond!
Join us on Friday, June 21st for an exciting night of live music at Louie G's Pizza in Fife. This is an all-ages event featuring: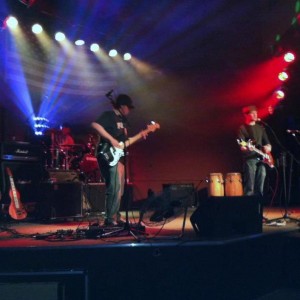 Bodybox, a three-piece rock band from Tacoma plays a mix of funk, folk, bass-driven soul and alternative rock. Bodybox has a bevy of personalities to draw from: frontman Kurt Lindsay, whose voice has been called "like [Jeff] Buckley's, simultaneously full of bravado and wounded timidity;" drummer Belal Anwar; and the ever-effervescent (and occasional AaA host) Nick Kennedy on bass.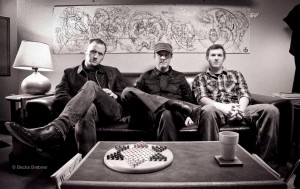 Fresh off being named a category winner and overall finalist in the John Lennon Songwriting Contest, Tacoman Sean VanDommelen birthed SleepyPilot. The electronic roots rock trio consists of Sean leading on guitar, keyboard, and vocals; Greg Magee on bass, and Jason Blair on drums.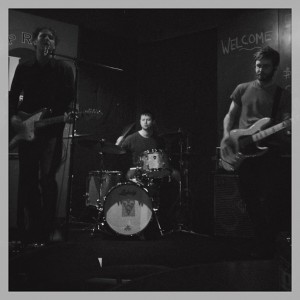 Hailing from Tacoma, The Variety Hour joins the dots between American indie-pop and gauzy British rock. Overdriven and sometimes- curious arrangements provide the backdrop for pop vocal melodies devilishly corrupted with forlorn lyrical themes of confusion, exclusion and loss.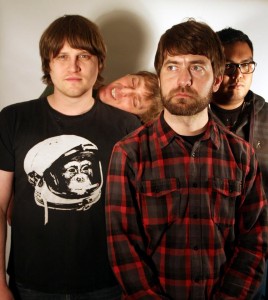 Through sunny melodies and heavily distorted alternatively tuned guitars, Animals in Cars have delivered their own brand of noise to a multitude of venues across the Pacific Northwest. Drawing from a mutual fondness for indie rock, this Seattle quartet crafts music that builds off of sonic landscapes previously explored by Sebadoh, Pavement, Sonic Youth, and Unwound.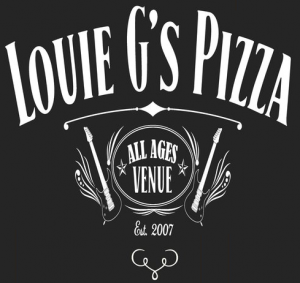 So come on down to Louie G's, one of the finest venues anywhere, for some amazing sound, awesome pizza, and some of the finest fans of a radio show a freethinker could hope for on the longest day of the year!   Louie G's is at 5219 Pacific Hwy E, Fife.
Tickets are available at Brown Paper Tickets. Order them right here:
Brown Paper Tickets Ticket Widget Loading…
Click Here to visit the Brown Paper Tickets event page.